Sculptor Steven Whyte Returns to the
Carmel Art Festival with
Popular Live Sculpture Event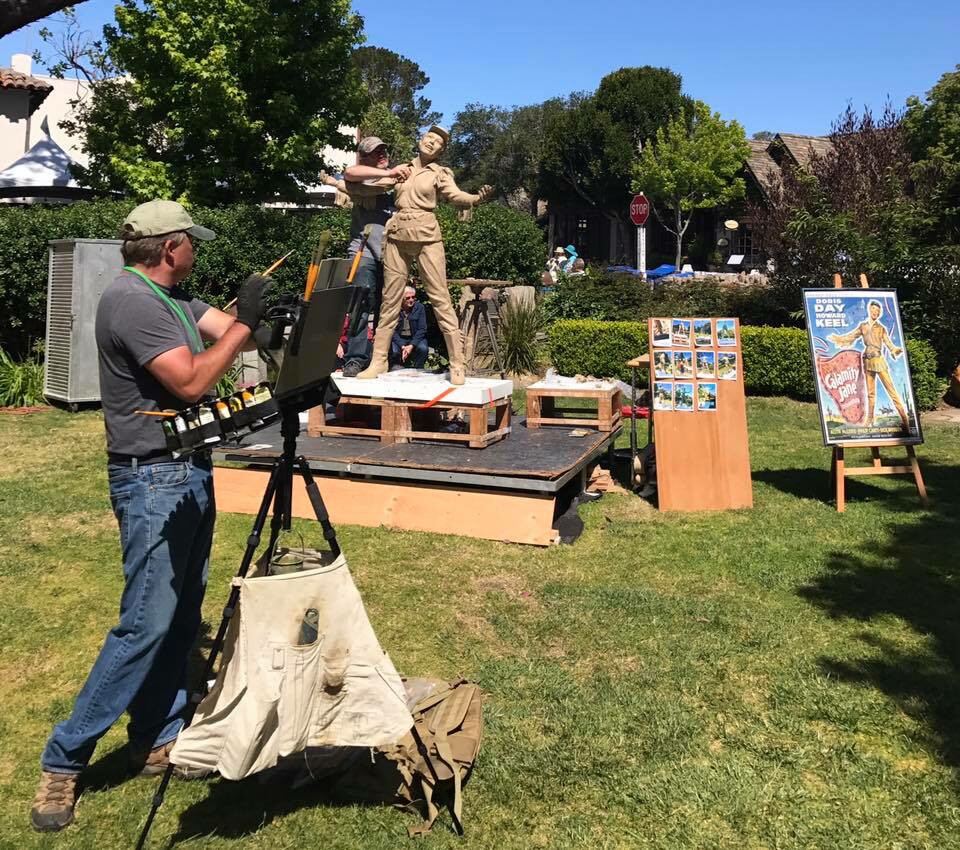 Sculptor Steven Whyte will return to the Carmel Art Festival's Sculpture in the Park in an important live public art event. Whyte will move elements of his Carmel studio to a stage in Carmel's Devendorff Park for the duration of the festival which runs from May, 18 through May, 20. Beginning with only a basic armature or base, with the assistance of his studio team, Whyte will sculpt a life-size figure of an important personality in American literature. Members of the media are encouraged to attend the event on Saturday, May 19 and Sunday, May 20. Whyte expects to have the sculpture near completion by the end of the day on Sunday. Visitors to the park will be able to ask the sculptor questions about his career, figurative sculpting and lost wax casting progress. Live models will appear periodically to provide Whyte with reference. To help visitors guess who the sculpture will eventually represent, dramatic readings of the figure's published works will be held throughout the last two days of the festival. In previous years the live sculpture event has been a highlight of the Sculpture in the Park program as hundreds of festival attendees repeatedly visited Whyte to check on the status of the sculpture and discuss the project with the artist. Whyte, who operates a gallery in the Su Vecino Courtyard on Dolores Street and an open studio in Carmel's Barnyard Shopping district is known for his approachable demeanor and desire to educate art lovers and the general public about the process behind the creation of fine art sculpture. "Art is a public medium," he explains, "and my work is particularly linked to the public because it celebrates the human form and experience." The subject of this year's sculpture has yet to be announced. Weather permitting, Whyte and his team should be sculpting from 12 noon – 6:00 p.m. each day. The artist explains that he hopes visitors will attend the festival and watch the figure take shape.
Originally from England, Whyte is a noted figurative sculptor and is credited with forty-nine life-size or larger public bronze figures in the United States and Europe, and more than sixty private commissioned portrait busts. His expertise lies in the ability to create permanent, expressive, realistic, and emotionally resonant sculptures in designs that compliment public and private spaces and engage with viewers. Whyte's public works include: The Aggie War Hymn Monument for Texas A&M University; The National Military Tribute for Bob Hope and A Monument to John Steinbeck's Cannery. His most recent work is the Women's Column of Strength for San Francisco, a controversial, but highly celebrated monument to the "Comfort Women" of World War II. In addition to his extensive experience dealing with works of monumental scale, Whyte has been recognized for his skill in creating likeness and expression. Early in his career, he was elected Vice President of the Royal Society of Portrait Sculptors in London. His work has been accepted by the National Portrait Gallery at the Smithsonian Institution and he has a small tribute to 9/11 first responders accepted by the Marine Corps Museum. In 2016, he was named Sport Artist of the Year by the United States Sports Academy. "I'm thrilled to be invited back to the Carmel Art Festival," remarked Whyte, "and doubly excited to participate in an event that involves the community in the artistic process in such an exciting, dramatic and educational way. I hope people have the opportunity to stop by." For more information on the Carmel Art Festival visit www.carmelartfestivalcaliforia.com. For more information on Steven Whyte's Studio and Gallery visit (www.swbronze.com ) or call (831) 620-1917.

Steven Whyte, Sculptor.

Tel: (831) 620-1917

Email Contact:sculptu@earthlink.net